Gas Barrier Film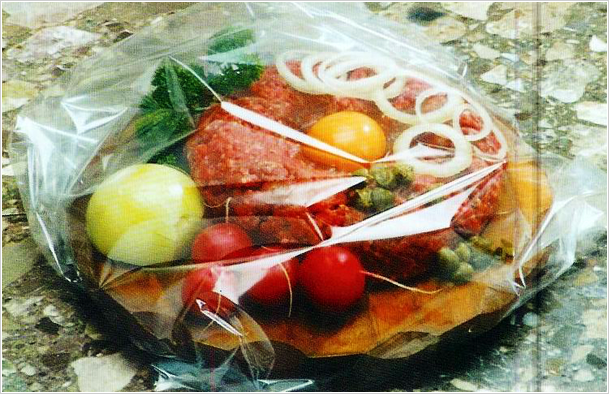 This film is gas barrier film for food storage(2times more)
Characterization

Decomposition prevention of food by Oxygen

Gas transmissivity is decrease 99% than general food package film

Transparency preservation
Experimental Data

Oxygen Transmission Rate at 23 ℃

Water Vapor Transmission Rate at 23 ℃

Test-lab: SKC (Korea) research with Fraunhofer (Germany) R&D
Importance (needs) of developing technology
This technology is related to manufacturing technology of new film with good barrier gas and organic substance. barrier film is actively adopted to packaging in food/ beverage/ medical products/ and industrial parts. In particular, high barrier effect on leak of gas, smell and vapor in substitution packaging and beverage packaging or vacuum packaging, preventing from microorganism growth, content oxidation, and fragrance & solvent. However, the pre-existing products are manufactured by accumulating various polymers, which has made it thicker and complicated process and bad gas barrier effect. Besides, polymer barrier film from molecule level and some materials have been not appropriate to manufacture food & beverage packaging, or not approved by authorities. To overcome such weakness requires new manufacturing method of film with very excellent barrier effect at lower prices. Development of packaging film with good barrier effect, is expected to make great ripple effect on the related areas such as food & logistics, by increasing the food storage.
Scratch barrier film function implementation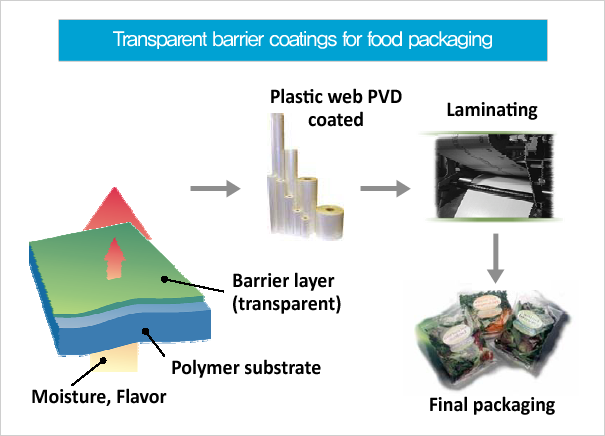 Visit to Fraunhofer-Gesellschaft

Gas barrier technology applicable range
Barrier Coatings: Summary of Coating Technologies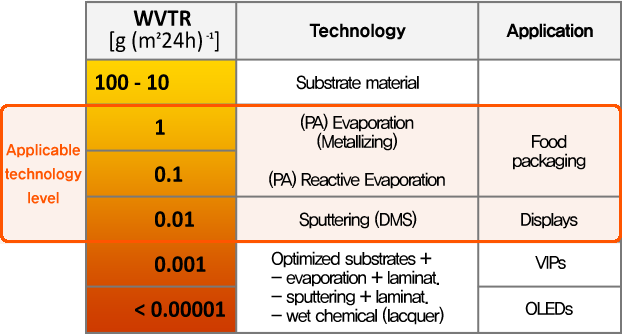 Marketability - characteristics of consumer needs
Consumers'needs

Needs of characteristics of the pre-existing barrier   OTR < 1cc/m2 / Day (PET-RHB-10% expensive PET),   WVTR<1 g/m2 /Day (PET-RHB-10)

Excellent Adhesion layer   Adhesion layer effect increased, after plasma treatment.

Excellent vacuum packaging characteristics   Whether automatic vacuum packaging is enabled
MULTI-Layer laminating
Separate facilities required for treatment fo PE/PP Laminating and FINISH SURFACE

PSII technology without deformation of Adhesion layer
PSII (Plasma Source Ion Implantation)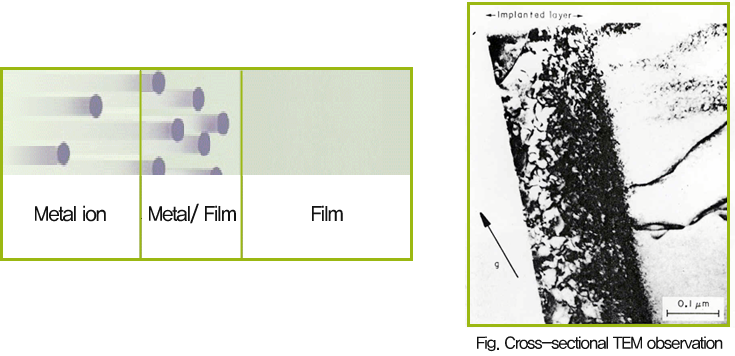 No materials deformation due to low temp. process

Very high strength of Adhesion layer due to formed ion injection layers (Hair Crack minimized)

No oxidation or damage on surface

Adjustable depth of surface less than micron  
PSII method applied Barrier Film making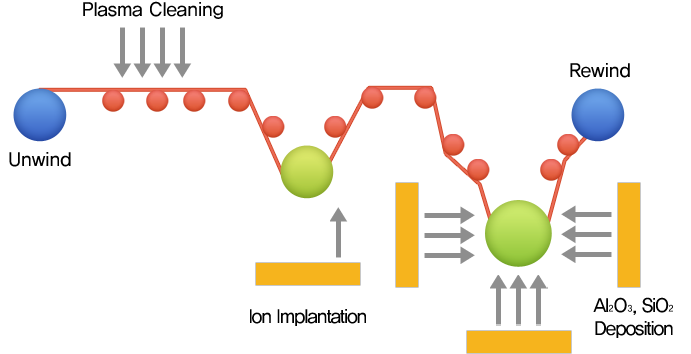 Applicable area- chemicals save (Amino acid save film)
Needs

Currently used bottle-type save container applied

To increase usability and long-term storage, first changed to vinyl packaging

Changed to bottle type again, due to dioxin detected in vinyl packaging
Solution

Fundamental removal of dioxin detect

Great decrease in oxygen transmission rate & moisture transmission rate

Barrier Film is changed to multi layers (Adhesion layer technology required)

If this item developed and completed, applicable items are as follows:

Food packaging

Meat & dairy products packaging

Medical products packaging

Industrial products packaging

Others