Product Name

How to use

Insert heating units [single or dual] in waist back.

Insert DC plug in In/Out port of the battery.

Press On/Off button[

] of the battery and set a Number[1,2,3,4,5] for the temperature as you want.   Note : "5" is the highest, but "4" is enough in normal conditions.   * A Number indicating remained capacity will automatically be shown 3 seconds later after setting the temperature choice.

As you touch one-time, the temperature step is changed. If you press one more time after the "5", Off is followed.   ☞OFF-1-2-3-4-5-OFF

When the battery is not connected with the heating units, "E" mark will be shown in 30 seconds,   then a Number indicating remained capacity appears.
Warranty
Thanks for your purchasing REDZEN. REDZEN is passed strict testing.

Warranty period[non-sequential damages]is one year without payment.[But 6 months for the battery!]

After the warranty period, payment is needed for repairs.

Paid repairs   1) Damages on users carelessness.   2) Damages on fire, earthquake, flood disasters.   3) Damages in case users did not keep cautions   4) In case of missing warranty card or unknown sellers, unknown buying date.

For repairs, a warranty card is needed.
Returns

Fatal defects are found.

Received products are different from your ordered Products.
Non-returnable

In case one week is passed after receiving products.

Damages by user's carelessness.

Already used ones.

Missing and broken packaging & description sheets.
Applications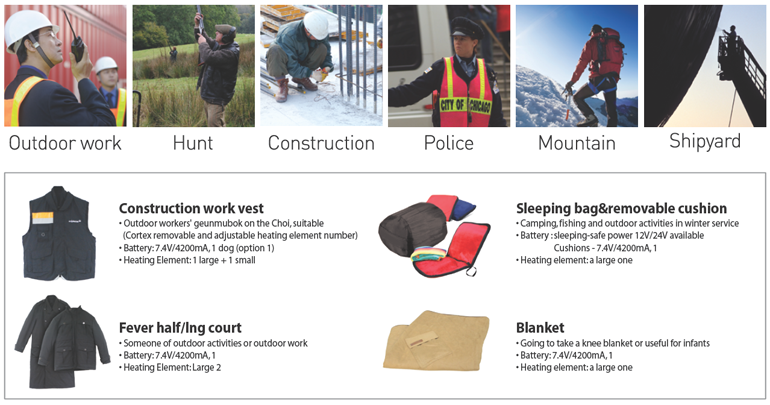 Carbon fiber heating element REDZEN
Mobility, flexibility, durability, safety, good fit, DC fiber heating material used is resistant to electromagnetic interference and radio environment can be used in a variety of (Thickness 0.2mm, 1 minute can be increased to 70 ℃)