Product Features
Infrared Heating Panels Prices


Developed new shielding transparent element with EMI shielding functionality

Permeable PET FILM is treated with composite ceramic multi-films in thin layers,   to be applicable transparent and highly efficient electromagnetic shielding substrate

High conductive characteristics of thin layer substrates are adoped to ensure excellent and efficient shielding effect.   Nano scale of thin layers technology is applied for technology implementation

Compact /Ultra-slim - Thin layered film within 0.3mm

For electromagnetic shielding transparent conductive film, the requirements are penetration and low resistance factors

Requirements for electromagnetic shielding testing -(20db / electromagnetic shielding test data)- The release this time 60db,   film resistance conditions (10 ohm / electromagnetic shielding transparent conductive film imported product)
Needs for high efficient and transparent electromagnetic shield element
Due to the development of electronic communications, it is unvoidable to ouse more electromagnetic. The issue of electromagnetic interference (Electro-Magnectic Interface;EMI) now becomes the issue that cannot be neglected any more. Home appliances and communication devices are restricted by stronger EMI regulations. In particular from displays such as LCD(Liquid Crystal Display), EL and CRT, there is increasing needs for block-off elements that prevent from electromagnetic(EMI;electromagnetic, NIR;near-infrared ray, neon beam) harfum to human body, with rapidly increasing demands, In line with the market expansion, this high efficient and transparent electromagnetic blocking elements are installed on the front of displays such as LCD /VDT with much electromagnetic wave emissions. As for the monitors requiring permeability, it has to ensure effective block-off of the leak of electromagnetic emissions. In reality, Korea has depended on importations, which requires the development of domestic permeable EMI shielding materials. To begin with, the shielding performance should have 20db or over value and hold 10 ohm/sq or over sheet resistance, which also should penetrate at least 60% of visible lights (wavelength 380~780nm). Accordingly, it is urgent to set up domestic technology of nano-thin layer of transparent conductive film as in our suggestions. We are planning to hold globally recognizable technology competitiveness, by developing 50% higher in production and price competitiveness, compared to the pre-existing process.
Pre-existing technology - Changes in applicability in electromagnetic shielding materials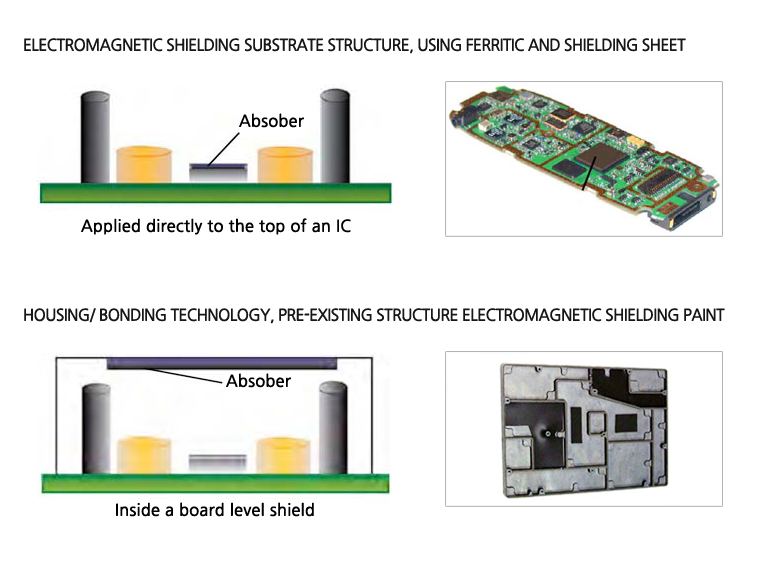 New transparent shielding element for electromagnatic wave (Cebit exhibition, Germany)
Conductive windows (Shielded Screen). Coating type windows is a product coated with conductive materials in form of vacuum sputter on one side of transparent plate, for electromagnetic shielding. This product is great in light penetration and mainly adopted to LCD after ITO coated new element applied.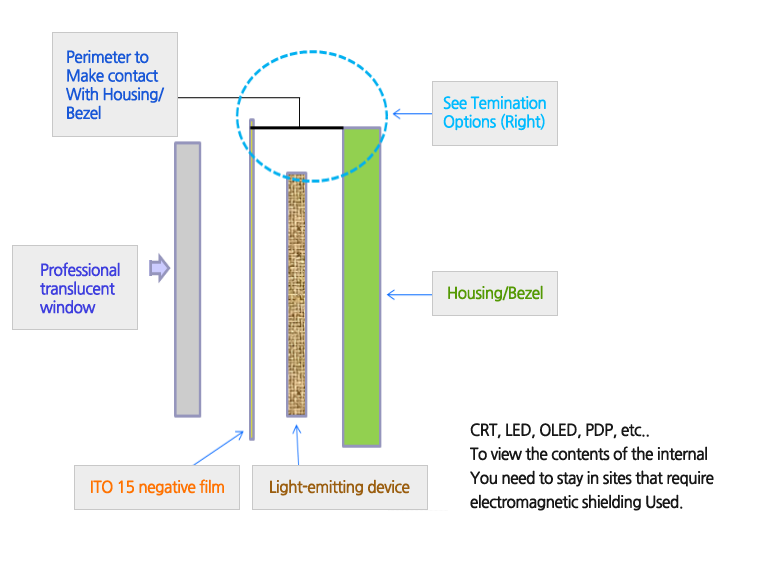 Originality of technology
Core element technology

Precise nano thin layer coating manufacturing technology (Already acquired technology), balanced thickness / balanced coating → Patent held

Higher efficiency technology (Already acquired technology) - Process technology held through   patent and research project

Target control technology (Some are already acquired, plus field knowledge required), thin layer coating + pre-treatment   process development - development required   Assembly apparatus designs by section, Target control and plasma environment control process

Reliability technology (supplementary technology)   Reliability test technology → As for finished products, we cooperate with a process company (with New-Optics Co.,)
ntellectual property rights on technology held by us

Patent registration 0533068 -technology rights held by :Uniplatek Registered on Nov. 25, 2005   - Polymer surface treatment, using plasma ion injection method

Patent registration 0533070 -technology rights held by : Uniplatek Registered on Nov. 25, 2005   - Abrasion increasing method of metal product, using plasma ion injection method

Patent application 10-2012-0055921 -technology rights held by :   Uniplatek muti-layer thin layers coated transparent conductive film manufacturing method, manufactured muti-layer,   thin layers type transparent conductive film, and muti-layer thin layers type transparent conductive film manufacturing system
Process technology held

Composite muti-layer metal coating sputter technology device infrastructure

Continuous metal/non-metal sputter/ion injection technology

Plasma cleaning process technology

Plasma Source /Gun design / manufacturing technology
Technology implementation and technology differentiation

Domestic material applied, instead of ITO high-priced ones   - (4 times of price competitiveness) Achieved cost benefit, using AZO/ AG /AZO   - Developed product with 50% cost saving, even in line with pre-existing quality standards

Single film implementation → composite multi-film implementation that meets the specification needs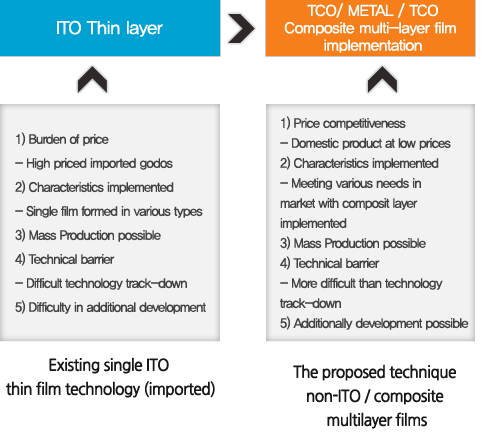 Precise printing screen print, wet latticed pattern printer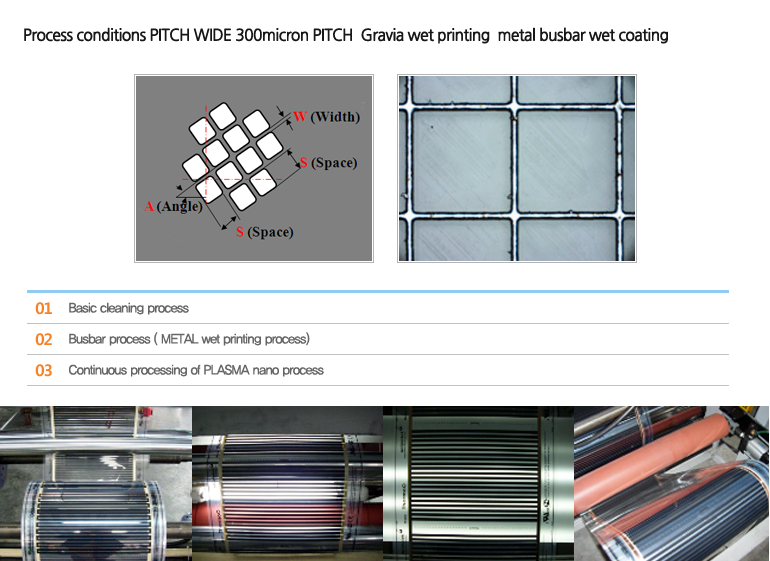 printing process inspection process pre-shipment process winding process Carbon printing process tested by equipment held by authority Expected to be tested through this process.
Equipments held

Equipment held - Batch Type production equipment

Equipment held - Plasma Roll to Roll continuous metal/non-metal Roll to Roll coating system
Photo of plasma continuous process

| | |
| --- | --- |
| Product Size | 40CM*100CM*0.2mm (ROLL TYPE) |
| Product Specification | FLEXIBLE PET substrate -Muty-layer AZO/METAL/AZO implementation |
| Product functionality | Flexible material having electromagnetic shielding functionality using low resistance conductive characteristics (10 ohm/SQ) and DISPLAY characteristics high efficiency (based on electric light penetration ratio)/ 70% or over penetration rate) and composite functionality |
| Product features | Adhesiveness enhanced composite nano-scale composite thin layers |